Flaunden village, some 300ft above sea level, has a background of history – it was on one of the Roman?roads from Nash Mills to High Wycombe. Flaunden, pronounced 'Flarnden' by the locals, is known as the village that moved, as today, the village lies on a hilltop less than two miles from the old site. Early villagers reputedly made pikes, swords and armour.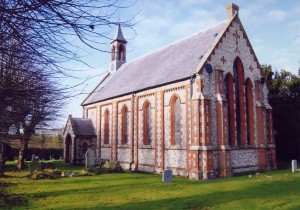 The original church – sited in the Chess valley – was built about 1235 by Thomas Flaunden, as a chapel to Hemel Hempstead and was dedicated to St Mary Magdalene. Unusually, it was built in the shape of a Greek cross and had a square tower surmounted by a Herfordshire spike. Many parishioners had a long walk to reach the original church, often arriving only to find the interior flooded by the River Chess which flowed alongside. These limitations meant that the church was abandoned in about 1825. A new church was completed at the village on the hill in 1837.
With only a village hall and two pubs it remains a quiet village with the original brick and flintstone cottages radiating out from the central crossroads. (The village hall is available for functions, with good car parking. 01442 834762).
During the last war the Green Dragon Inn, was host for many American soldiers and airmen and it is from such hostelries that the visiting Americans took away their impressions of the English country life.
Perhaps not so popular in hindsight, were regular visitors Joachim von Ribbentrop (German Ambassador to Britain at the outbreak of World War II) and the infamous Guy Burgess before his defection to the Soviet Union. Today through thoughtful modernisation, the inn shows little sign of change (other than the addition of inside toilets!) and has an excellent range of real ales along with an enticing cuisine. On the edge of the village at Hogs Pit Bottom, where once were a blacksmith and a butcher's shop, is the other Inn the Bricklayers Arms.