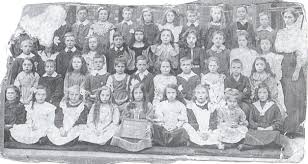 Extract from Bovingdon School Log Books One Hundred Years Ago
Jan 12th A very cold week, Some parents kept their children at home on very cold days, complaining that the main room is insufficiently heated. This certainly is so.
Feb 9th A week of snow & ice. Temperature in main room at 9am Mon 31, Tues 32, Wed 31, Thur 30, Fri 30. Some children are kept at home.
Feb 27th 59 children have joined the War Savings Association.
Mar 16th 13 children absent all the week 10 ill and 2 at farm work.
Mar 30th 9 boys and 9 girls worked in the garden on Friday afternoon. They dug and planted about 5 poles with potatoes. The managers not having provided any potatoes or tools, I have obtained some seed potatoes and the children brought their own tools.
May 8th Finished planting our plots of garden with potatoes on Friday afternoon, Area of garden = 20 poles. Quantity of seed potatoes = 3 bushels.
May 25th Yesterday being Empire Day we had a half day holiday.
In the morning the Head Master gave a lecture to all the children on the Empire and their duties in connection there with specially dwelling on the great deed for economy. The children of both departments afterwards assembled on the play grounds and sang three patriotic songs:- Then saluted the flag and finished with God Save the King. A collection on behalf of the Over-Seas Club realized 19/8.