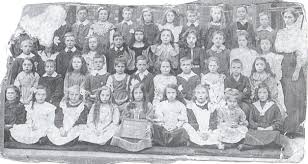 Extract from Bovingdon School Log Books One Hundred Years Ago
Jan 12th A very cold week, Some parents kept their children at home on very cold days, complaining that the main room is insufficiently heated. This certainly is so.
Feb 9th A week of snow & ice. Temperature in main room at 9am Mon 31, Tues 32, Wed 31, Thur 30, Fri 30. Some children are kept at home.
Feb 27th 59 children have joined the War Savings Association.
Mar 16th 13 children absent all the week 10 ill and 2 at farm work.
Mar 30th 9 boys and 9 girls worked in the garden on Friday afternoon. They dug and planted about 5 poles with potatoes. The managers not having provided any potatoes or tools, I have obtained some seed potatoes and the children brought their own tools.
May 8th Finished planting our plots of garden with potatoes on Friday afternoon, Area of garden = 20 poles. Quantity of seed potatoes = 3 bushels.
May 25th Yesterday being Empire Day we had a half day holiday.
In the morning the Head Master gave a lecture to all the children on the Empire and their duties in connection there with specially dwelling on the great deed for economy. The children of both departments afterwards assembled on the play grounds and sang three patriotic songs:- Then saluted the flag and finished with God Save the King. A collection on behalf of the Over-Seas Club realized 19/8.
Jun 1st The gardening class were busy weeding their plots of potatoes while a few children dug some old soil which was over grown with grass and weeds. No of eggs collected 25.
Jun 8th The gardeners `flat-hoed' their potatoe plots today and put in 4 rows of turnip seeds.
Jun 15th Visited by I.Bamber Esq, gardening expert to Herts C.C. who viewed the emergency school garden. The gardening class molded up their 70 rows of potatoes this morning carefully weeding their plots first.
Jun 22nd
The gardening class planted the following:-
2 rows of Brussels Sprouts
3 Rows of Broccoli
3 rows of Winter Kale
3 rows of Scotch Kale
3 rows of Sprouting Broccoli (purple)
4 rows of Savoy cabbage
3 rows of Red Cabbage (pickling)
3 rows of Cauliflower (Autumn Great)
1 row of Mixed Greens.
Jul 6th The gardening class spent their time chiefly in weeding their plots. They singled the turnips.
Jul 20th Many children have been absent half days this week to gather raspberries which grow wild in great profusion on Leyhill common.
Sep 14th Many children absent at work in the fields. The gardening class lifted 14 bushels of potatoes this morning. These will be sold to parents of the children at 3/- per bushel, other buyers will pay 3/6.
Sep 20th Many children still absent at work in the fields or minding baby while mothers work.
Sep 28th The gardening class has now finished digging potatoes lifting about 27 bushels.
Oct 12th The ground was again too wet for gardening.
Oct 19th The attendance is still very irregular many children stay away `acorning' acorns are fetching 1/4 per bushel.
Nov 9th Temperature rather low in the early mornings but there are rumors that we may soon be provided with an extra stove.
Dec 7th The attendance is sill bad. The intended gardening class has fallen through; The county council being unable or unwilling to provide tools etc for the same.
Dec 14th Attendance much worse, whooping cough has made its' appearance, the temperature of the main room is really the cause of many children being absent.