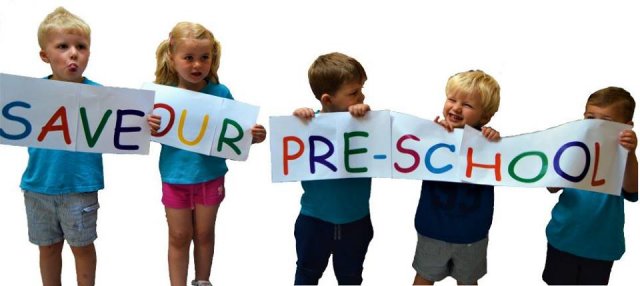 Dear Parents/Carers,
It is with a huge smile on my face, together with a little tear in my eye, that I am composing this news letter, and it also holds much more positive news than the last!
We are staggered by the amount of support shown by so many of our parents and people around the village.  The turn out to our Parents Evening/AGM was amazing and there were some fantastic ideas and offers of help being spoken about.
On behalf of myself and all the staff here we would like to thank you all for showing us that you really are backing the Pre-School 100% and care as much as we do about keeping it going long into the future.
A special mention must go to Clare (Benjamin's Mummy) and Danielle (Joshua's Mummy – also our new Chairperson) who have, between them, managed to raise almost £1100 from knocking on local businesses doors and asking for help.  They, along with lots of other committee members, have donated so much of their time to our "save the Pre-School" campaign and we cannot thank them enough for this!
In just under a week so many local businesses have agreed to help us out by sponsoring the Pre-School, with a financial donation, some of these include
Aston Martin
Bovingdon News
EAS Transport Planning Ltd
K's Cafe
Lily's
Financial Solutions
The Vintage Barbers
Belmont Services
And we are awaiting confirmation on so many more!
Our Crowd Funding page is doing very well too and is already up to £1020!
Some dates for the diary for more fundraising:
Bovingdon Football Club have agreed to let us have a fundraising stall at the two following events: 
Saturday 3rd June 2017          – 5 Aside Football Tournament 
Saturday 24th June 2017        – It's a Knockout
Saturday 1st July 2017            – Bovingdon Primary Academy have kindly allowed us to      hold a stall at their forthcoming Summer Fair 
Help!
We are looking for a candy floss making machine or such like for the first event (next week!) so if anyone knows someone who may have one we could borrow, please do get in touch.  We would be so grateful!  With not much notice, we also need volunteer's on the day to help man the stall so if you can spare even half an hour please let us know and also for any of the above dates.
We will be holding a meeting on Tuesday evening to discuss the forthcoming fundraising events and still welcome any and all ideas to raise funds so if you haven't already done so please pass them on or pop along to the meeting so they can be discussed/put into action.  The meeting will be held in the Memorial Hall Club Room at 8pm.
Committee News
It is wonderful that so many of you have joined our committee, we are now up to capacity with numbers (for the first time ever!!).
If you would like to contribute please visit our Just Giving page, which we have set up
www.justgiving.com/crowdfunding/savebovingdonpre-school.