Who remembers the great weekend revels of the 70s/80s. The village came to life with great events on the playing field.
Well this will happen again after a gap of some 20 odd years, there will be loads of stalls, food, tombolas, bouncy castles, a dog show, live bands and much much more on Monday 4 June to celebrate the Diamond Jubilee.
(Can you remember the great 5-legged pub race? Five pubs in those days, sadly only three left now – used to take up to 2 hours then – probably do it in five minutes today.) Anyway, all of them will be doing something special on this day!
In the evening, BACKBEAT will be playing at the Memorial Hall (there's a licenced bar) to finish what should be a great day. They will really get things going with their great 60s' sound – Oh and a prize for best 60s 'style fancy dress!
Hog roast at the Dragon.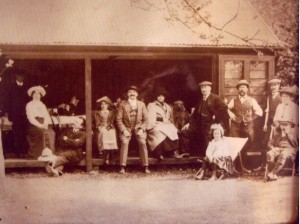 Bob & Ida Burgess took over The Green Dragon (Flaunden) in 1932 as tenant landlords to The Cannon Brewery, and later to Taylor Walker.  And during World War II, Bob was head of Flaunden's Home Guard unit, which met in the Old Club Room at the rear of the pub – a structure which survives to this day. Their daughter, Barbara, who grew up at The Dragon, can still recall the occasions when she played in the garden with two little girls who visited the pub with a groom whilst staying at Latimer House just before the war.
Back then in the late 1930s, neither she nor, indeed, her playmates had even the slightest idea that within some 15 years one of them was to become Her Majesty Queen Elizabeth II.
Yes, those two little girls were Elizabeth and Margaret, daughters of the then Duke and Duchess of York – unexpectedly, soon to be crowned King George VI and Queen Elizabeth on the abdication of the Duke's brother King Edward VIII.