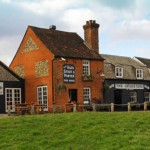 I'm really pleased to say that the gentle refurbishment in October to take us back to our roots as a classic village pub has borne fruit, and reactions have been really positive.
Our forthcoming Pie and Ale Week runs from Friday 23rd March to Sunday 1st April. The pie menu, which runs alongside our normal menu, features ten different pies, complemented by eight different cask ales to tickle your fancy over the week, five of which are available at any one time. And don't forget, to keep our locals happy we have reduced prices for beer and wine on weekdays between 5pm and 7pm.
Just two other quick things: Mother's Day on March 18th is already looking popular, and our new head chef, Justin Hetherington, has introduced a new set menu, with two courses for £13.95 and three courses for £16.95, which is proving very popular with our ladies who lunch.
Bookings are going well, especially towards weekends, so if you'd like to book a table please get in touch on 01923 270 877.  I do hope to see you soon.
David and the Cricketers' crew