PC Cooper has joined the Neighbourhood Team as the Bovingdon, Chipperfield and Flaunden officer.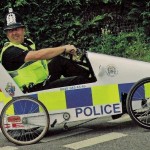 Simon Cooper has been in the Hertfordshire Constabulary for 12 years, (he does have a sense of humour, so won't object to the picture – not really him – and does a lot of good work for young people in the area).
Simon has a wealth of experience within the Constabulary and is looking forward to meeting his residents within his areas. If you would like to meet or speak to PC Cooper please contact him on 01707354192.
PC Stuart is the ward PC of Kings Langley and Nash Mills she is very knowledgable and keen to help! PCSO Agallari and PCSO Martin are also available should you wish to contact them.
Bovingdon, Chipperfield and Flaunden PC Cooper and PCSO Agallari are keeping busy in the area dealing with the priorities. Please do come along to the street meetings. It is a great opportunity for you to discuss local matters in an informal venue. Kings Langley and Nash Mills .
Contact:
PC 939 Simon Cooper
Tel: 01707 354192