Saturday morning police and three fire engines where called to Dudley House, after a resident went missing in suspicious circumstances. Officers were concerned for 80-year-old Ron's safety after he was last seen on Friday evening.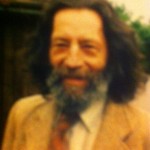 Dudley House is a sheltered housing scheme built in 1969. Consisting of 29 one bedroom and two bedroom flats and 5 one and two bedroom bungalows.
The scheme provides independent accommodation for the elderly with the added security of a Supported Housing Officer and 24 hour community alarm service.
After an extensive search of the area and his local venues he was found save and sound.