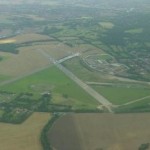 I am pleased to correct this story (see replies) as " Bovingdon's New Airfield" – the heading was ofcourse incorrect – it  is not a New Airfield,  it is not Bovingdon's New Airfield its an old airfield and any application is not to re-open the airfield, but for continued use as an airfield and not as implied earlier. I applogise for any confusion on this matter.
An application for a Certificate of Lawfulness has been made by the owners of Berry Farm  and a decision is rumoured within the next couple of weeks.
More on this on the Dacorum website http://www.dacorum.gov.uk/planonline/AcolNetCGI.gov?ACTION=UNWRAP&RIPNAME=Root.PgeResultDetail&TheSystemkey=204139.