Learn to Drift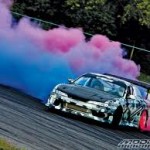 Drifting is something many aspire to be able to do however they are not sure where to start, but you can try at Bovingdon Airfield.
Learn2Drift  hold Drift days aimed at different skill levels, so you can learn with people of similar levels of skills. They use a mix of theory including a safety and technique briefing, and practical exercises to help you develop the skills required to control a car going sideways. – Sounds like Bovingdon High Street on a Saturday night!
Open to the public (booking required) as well as  private events for groups and companies.
Bovingdon Airfield
http://www.learn2drift.co.uk/
Runways Farm
Upper Bourne End Lane
Hemel Hempstead
HP1 2RR.
(Entrance to upper bourne End lane is via A41 Slip road to Bourne end Services)